Speak and Translate Voice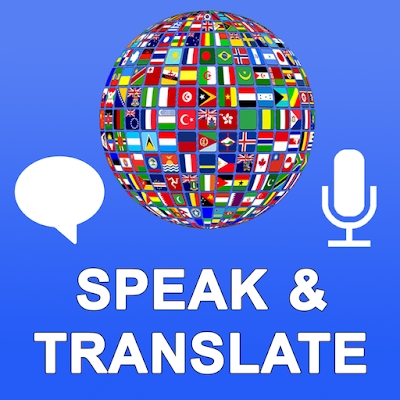 Category
Communication
Installs
1,000,000+
Size
8.9 MB
Content
Rated for 3+
Current Version
3.0
Requires Android
4.1 and up
Updated
Aug 29, 2023
Rating
4.3 / 5.0
Speak & Translate - All Languages Voice Translator & Interpreter!

Speak to Translate is a dynamic mobile phone app for users who frequently are in the need of translation and meaning of all languages of the world. At the same time Speak and Translate app offers the online dictionary facility to users around the world. This application promptly will catch your voice and will translate it into the desired language. All language related features have be accumulated in this beautiful Speak and Translate app. This Speak and Translate voice translator app is efficient to recognize and swiftly convert it into your desired language. Speak and Translate app meet the needs of all kind of voice translations, language interpretation, and dictionary needs. In this Speak and Translate, voice translator app and interpreter, there are many notable features and options. The major features are as follows.

Translation of all languages: - The core feature of this Speak and Translate, all languages voice translator and dictionary app is that it is equipped with the facility of translation in all languages of the word from any language of the world.in this way, this translation app will help you to communicate with other regions of the world.

From English into all languages and from all languages into English: - As we know that English has been the international language and the language of science and technology. English is also at first lane in the various international and the regional organizations of the world. Everyone irrespective of the region or geographical difference wants to learn and communicate in English language. In Speak and Translate, all major languages have been included. These languages are as Chinese, Spanish, Hindi, Arabic, Bengali, Urdu, Russian, Korean, Punjabi and French. From all these languages and various other languages of the world, you can get your translation in English language. Using the Speak & Translator voice translation app, you can:

Translate English to Chinese
Translate English to Spanish
Translate English To German
Translate English to Arabic
Translate English to Hindi
Translate English to Bengali
Translate English to Portuguese
Translate English to Persian
Translate English to Russian
Translate English to Japanese
Translate English to Korean
Translate English to Punjabi
Translate English to French
Translate English to Urdu.

Dictionary in all languages: - Speak and Translate app is not only a translator app but also provides the option of dictionary in all languages of the world. You just write your desired word or sentence of the any language of the world and it will provide you the translated meaning or sentence in your desired language.

Simple user interface: - One more important feature of this beautiful app Speak and Translate In all languages of the world is that it has been developed especially for the lay man or common users who are not expert in technologies or computer knowledge. It is very easy to understand. User automatically will understand the usage of Speak and Translate from the simple interface.

Supported Languages: - Few of the supported languages included are: Afrikaans, Albanian, Amharic, Arabic, Armenian, Azerbaijani, Basque, Belarusian, Bengali, Bosnian, Bulgarian, Catalan, Cebuano, Chichewa, Chinese (Simplified), Chinese (Traditional), Corsican, Croatian, Czech, Danish, Dutch, English, Esperanto, Estonian, Filipino, Finnish, French, Frisian, Galician, Georgian, German, Greek, Gujarati, Haitian Creole, Hausa, Hawaiian, Hebrew, Hindi, Hmong, Hungarian, Icelandic, Igbo, Indonesian, Irish, Italian, Japanese, Javanese, Kannada, Kazakh, Khmer, Korean, Kurdish, Kyrgyz, Lao, Latin, Latvian, Lithuanian, Luxembourgish, Macedonian, Malagasy, Malay, Malayalam, Maltese, Maori, Marathi, Mongolian, Myanmar, Nepali, Norwegian, Pashto, Persian, Polish, Portuguese, Punjabi, Romanian

Download Speak and Translate and explore the world with the language skills & enjoy speak and translate.

What's New
For Accurate Translations, Please select correct language first.
Updated Speak and Translate All Languages voice to voice Translator.
Improved Voice Translations
Easy language selection.
Conversations view improved.