Cover art Fast Scan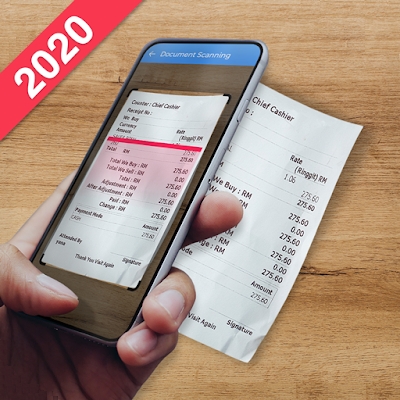 Category
Business
Installs
100,000+
Size
6.1 MB
Content
Rated for 3+
Current Version
1.0.8
Requires Android
5.0 and up
Updated
Jan 16, 2023
Rating
/ 5.0
Turn your smartphone into a mini document scanner PDF converter that can fast scan documents and photos with optical character recognition. Free document scanner app is a fast scan app that works to scan documents, scan PDF, OCR text scanner and PDF converter. With this document scanner app that works as fast scanner app on any type of scan documents in your office and home. PDF converter can convert any JPEG file into scan PDF through optical character recognition.

Fast Scan: PDF Converter, OCR Text Scanner App is perfect to scan PDF, scan documents and OCR text scanner app to do fast scan for students, businessman and everyone else. Fast scan app or fast scanner app can do scan PDF file that fast scan documents. After fast scanner app or scan PDF converter, one can print that scan document or scan pdf without any hassle. OCR text scanner helps in PDF converter after scan PDF.

OCR TEXT SCANNER APP
It functions like OCR text Scanner app besides doing scan documents or scan PDF that is for fast scan documents and photos with automatically optical character recognition into OCR text scanner format.

EASY TO EDIT & SCAN DOCUMENTS
This free document scanner / scan documents work as fast scanner app or fast scan app and edit document in no time with the functionality of scan PDF converter.

DOCUMENT SCANNER TO PDF
Scan PDF converter helps to do fast scanner or fast scan in fast scan app or fast scanner app and then scan documents and enable a person to convert the document into any format.

Features of Fast Scan: PDF Converter, OCR Text Scanner App:
Accurate results will be seen in PDF converter.
Automatic detection in document scanner.
Fast scan app or fast scanner make your life easier.
Fast Scanner editing tool is available for text scanner.
Easily save your document scanner with fast scan.
Backup and restore PDF converter files.
Extract text in OCR text scanner or fast scan app.
User Friendly UI of Fast Scanner & Document scanner.
Auto detection of document scanner in scan app.
Add or edit in document scanner / scan documents.

Fast Scanner or Scan app allows to scan photos, document scanner and PDF file in high quality which makes it easier to read. This fast scanner / scan app auto detects the corner of PDF file after document scanner and crop the part which you don't want to scan. Fast Scanner or Scan App has a really cool feature that works as a converter app for document scanner. After photo scanner or PDF file, one can save scanned files in scan app.

Download PDF Converter Scan App: Fast Scanner for document scanner and text scanner. And make your life Easier with Fast Scanner...!!!

What's New
Crashes fixed.
New and improved features included.
Get premium services by paying in-app.