Idle Miner Tycoon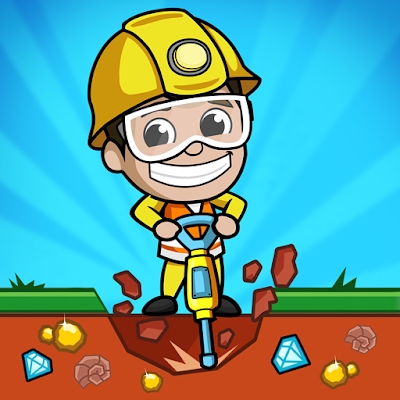 Category
Games
Installs
50,000,000+
Size
127 MB
Content
Rated for 3+
Current Version
2.86.0
Requires Android
4.1 and up
Updated
Aug 22, 2023
Rating
4.4 / 5.0
Have you ever wondered how to be an effective mine manager millionaire? Become an industrial tycoon by managing your mine and idle profit, and earn money to become rich!

Expand your millionaire mining empire and give your productivity a boost with specialized miner managers who will automate the workflow of your mine! Take on this challenge and discover the manager strategy to invest in and earn as much cash as possible in this simulator - online and offline! Strike gold now! This is not a clicker game, and there's no need for endless tapping like those other online clicker simulators.

Idle Miner Tycoon is a simulation game that mixes mining management with money investment to gain profit and become a famous rich capitalist millionaire. The aim of this miner strategy simulator is to build and optimize gold resources to gain as much productivity and idle benefits as possible: With the income you make from the mine, you will have to hire and pay managers and miners, upgrade your mines, mining buildings, and equipment as well as optimize your workflow for the perfect timing of the whole mining and management process. What makes this different from the other idle games is that you can become a mine manager tycoon capitalist, build a millionaire empire, and earn profit by optimizing the mine workflow in this manager game like in an online clicker simulator. Gain some revenue and invest now in this miner manager simulator until you become a rich tycoon full of wealth and gold! Enjoy this Tycoon games! Try this simulator in money games. Not just another one of those tap games. Here, you can become a true tycoon!

IDLE MINER TYCOON SIMULATOR
Automate your mining to increase your idle income: No need to tap and tap like in an online casual clicker simulator!
Get idle cash and earn money & gold: Continue the business even when you are offline!
Profit from money investment to boost your economy and become rich! You'll be a millionaire!
Hire managers to increase your miners' motivation! The simulator among manager games.
Every manager has a special tycoon booster: Increase worker productivity!
Build up your idle billionaire empire simulation!
Manage more than 20 cool mines like a real boss: Become a mining tycoon magnate by managing this mine business simulator!
Mine for more than 15 different resources: coal, gold, ruby, moonstone, amethyst, crystal, and jade, making this game different than all of the other idle games.
Collect masses of coal and gold in this money and mine management simulator! It's not like other money games!
Increase your money online or offline in this tycoon games!
Climb and clash in the leaderboard and become the richest industrial manager tycoon in this idle miner simulation! No mindless tapping like the other online clicker games.

Seize the chance to become a miner tycoon billionaire by automating the mine workflow simulation of your magnate business without needing to tap constantly. Get rich, purchase new mines and buildings, invest cash and gold, and become the greatest mine manager tycoon ever in this mining strategy simulator! No need to tap like the online clicker simulators or tap games! Try the money games and manager games!
Gain some revenue and invest now in this miner manager simulator. Dig out the gold and become rich without endless clicking! Become a millionaire! Enjoy in this Tycoon games - not like the other idle games!

What's New
How many Mainland Levels have you mastered so far? You can now collect a reward for every Mainland area you complete!
We've improved several early-game tutorials.
More visual polishing in Mainland.